Brian Woodman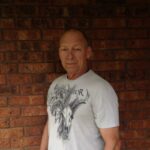 Brian C. Woodman passed away on February 27, 2023, in his home. He was born
on November 13, 1960, in Rockford, Illinois, to Charles and Annabelle Woodman.
He was preceded in death by his parents, his brother, Lyle Woodman, and his
brother-in-law, Bill Greeson.

He leaves behind four sons: Justin Lisk (Amanda) of Republic, Brendon Woodman
of Carthage, and Deric and Benjamin Woodman of Joplin, and two step-sons:
Randy Greer Sr. (Kathy) of Henderson, Nevada, and Jeremy Greer (Kelly) also of
Henderson, Nevada. Sisters: Marianne Landolfi (Len) of N. Carolina, Deb Greeson
of Republic, and Shari Bower (Vinnie) of Springfield, a brother, Charles M.
Woodman and wife of Boston, MA, along with seven grandchildren and two
great-grandchildren, a host of nieces, nephews, great nieces and nephews, a
great-great nephew and lots of cousins, aunts, and an uncle.

Brian loved to ride his Harley "Cindy," was an avid sportsman, and loved being
outside, doing custom leatherwork, making holsters, cooking, and most of all,
spending time with family. Above all else, he loved God.

He was a diesel mechanic and a truck driver for a number of years. Growing up in
Wisconsin, he loved riding in motocross races with his dad. He was a stuntman
with Ghost Town Productions in California when he resided there. He was a jack
of all trades.

Services will be held at Celebration Church at 1301 S. Duquesne Road in Joplin on
March 11. Visitation is from 12:30 -1:00 pm, followed by a service from 1:00-2:00
pm.

In lieu of flowers, please donate in Brian's name to K9s For Warriors online at
K9sforwarriors.org. You can mail a donation to K9s For Warriors, 114 Camp K9
Road, Ponte Vedra, FL 32081
Lovingly written by the family.