Joe William Stover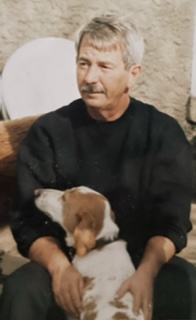 Joe William Stover, 79 of Joplin, Missouri departed peacefully from this life on Monday, August 15, 2022, with his family by his side.
Joe was born an identical twin on June 23, 1943, to William (Bill) and Dorothy Stover near Flat Rock, Indiana. He was married to Barbara (Grable) Stover in 1976 and lived in the Joplin for 0ver 40 years. He was preceded in death by his parents and twin brother Jack Clark Stover.
He was a very generous person often helping strangers in need by paying their grocery bills or lending a hand when they came up short. He was naturally compassionate, kind and cared deeply for everyone, especially his family who he loved to surround himself. He enjoyed life, spending many hours attending his children and grandchildren's sporting events, from baseball lawn chairs to gymnasium bleachers he cheered from the sidelines every season for 30+ years. He was the family comedian trying to bring out happiness in everyone through a skilled wit and dry humor. He loved animals spending many years raising cattle, horses and a donkey named "Trent" on his farm, he also had a pet parakeet and countless dogs, a love that he passed on to his entire family.
He was a natural conversationalist and worked most of his life as a sales executive for Cummins Engine Company, Peterbilt, Kenworth and Volvo. An avid golfer he lived and was a member of both Briarbrook and Loma Linda Country Clubs. One of his greatest joys in life is unquestionably the time he was able to share with his children, Jodi (Chris) Lowe of Pierce City, Taylor Stover, Sabrina (Ray) Jackson and Michelle (Jon) Hoover of Indiana.
He was a very proud grandpa to Blake (Alyssa) Alford, Justine and Arika Trevino of Joplin, and Mason, Juli and Cash Lowe of Pierce City. Along with Tara Jessee, Trent and Tyler Jackson, Noah and Trey Hoover of Indiana, and 11 great-grandchildren who he adored. He was also close to his sister, Linda Cole of Shelbyville, Indiana.
He will be dearly missed as our family leader, husband, father, grandfather, brother, uncle and friend, but we will never forget the sound of his laughter, his sarcastic wit and unfiltered opinions!
In lieu of flowers, donations can be made to the American Diabetes Association.